Welcome to Tennis Evolution
Tennis Training App
Welcome to Tennis Evolution, the ultimate app for tennis players who want to take their game to the next level. Our app offers a variety of tools and resources designed to help players improve their skills, track their progress, and stay motivated on their journey to becoming a better tennis player.
Comprehensive Training Programs
A Tennis Evolution app provides a comprehensive and structured approach to tennis training. It offers a wide range of training programs, drills.
Expert Guidance and Instruction
Tennis Evolution app are developed by experienced tennis coaches and professionals who provide expert guidance and instruction.
Progress Tracking and Analysis
Tennis Evolution app often incorporate features for progress tracking and analysis. Users can track their performance over time, monitor their improvements, and identify areas that require additional focus.

How it works
Features
Our app is packed with features that can help you elevate your game, including:
01
Stroke Analysis
Our advanced stroke analysis technology uses artificial intelligence to analyze your swings and provide feedback on how to improve your technique.
02
Training Exercises
Our app includes a wide range of training exercises, designed by professional coaches, to help you build your skills in a structured and focused way.
03
Personalized Training Plans
Our app allows you to create a customized training plan tailored to your individual needs and goals, so you can track your progress and see real improvement over time.
04
Instructional Videos
Our library of instructional videos covers everything from basic strokes to advanced strategies, giving you access to top-level coaching no matter where you are.
05
Progress Tracking
Our app allows you to track your progress over time, so you can see how far you've come and stay motivated to keep improving.
Unique features
Why use Tennis Evolution App over Tennis Coach
Using a Tennis Evolution app can offer unique advantages compared to relying solely on a real coach. Here are some reasons why using the Tennis Evolution App may be beneficial:
Access to High-Quality Instruction
Tennis Evolution apps often provide access to top-quality instruction from renowned coaches and professionals. These experts share their knowledge, insights, and training techniques through instructional videos and tutorials within the app. Users can benefit from the expertise of multiple coaches, gaining diverse perspectives and a wealth of information that may not be readily available with just one coach.
Convenience and Flexibility
The Tennis Evolution App offers the convenience of training anytime and anywhere. Unlike relying solely on a real coach, users can access the app at their own convenience, fitting training sessions into their busy schedules. This flexibility allows players to have more control over their training, ensuring consistent practice and skill development.
Cost-Effectiveness
Engaging a real coach for tennis training can be costly, especially for regular sessions. In contrast, a Tennis Evolution app offers a more affordable alternative while still providing valuable training resources. Users can access a wide range of training programs, drills, and techniques at a fraction of the cost of hiring a personal coach. This makes tennis training more accessible to a broader audience and allows players to develop their skills without financial constraints.
Progress Tracking and Feedback
Tennis Evolution apps often include features that track and analyze performance. Users can monitor their progress, track improvements, and receive feedback on their technique, strengths, and areas that require improvement. This feedback allows players to make necessary adjustments and track their development over time, fostering continuous improvement and self-awareness.
Complementing Real Coaching
While the Tennis Evolution app can provide valuable instruction and resources, it is important to note that it can complement rather than replace a real coach. The app can serve as a supplement to in-person coaching, allowing players to reinforce their training, practice independently, and access additional resources to support their development.
Self-Paced Learning
With the Tennis Evolution App, players have the flexibility to learn at their own pace. They can revisit instructional videos, practice drills, and review techniques as many times as needed until they feel comfortable and confident. This self-paced learning approach allows players to focus on specific areas they need to work on without feeling rushed or overwhelmed.
Availability and Accessibility
The Tennis Evolution App is available 24/7, making it accessible at any time, regardless of location or time zone. Whether players want to train early in the morning, late at night, or during their travels, the app is readily available. This accessibility ensures consistent access to training materials and resources, enabling players to maintain their progress and dedication to the sport.
Variety of Training Content
The app offers a diverse range of training content that covers different aspects of the game. Players can explore various training programs, drills, and exercises specifically designed to enhance different skills, such as serving, volleying, or footwork. This wide variety of training content helps players develop a well-rounded skill set and explore different areas of improvement.
Progress Monitoring and Goal Setting
The Tennis Evolution App often includes features that allow players to track their progress, set goals, and monitor their performance over time. Users can set specific targets, such as improving their serve accuracy or increasing their agility, and track their achievements. This progress monitoring and goal setting feature provides motivation, direction, and a sense of accomplishment as players witness their improvement and achieve their goals.
Community and Support
Tennis Evolution Apps often foster a community of like-minded players, where users can connect, share experiences, and provide support to each other. This sense of community creates a supportive environment where players can interact, exchange tips and advice, and even participate in challenges or virtual competitions. This social aspect of the app enhances the overall training experience and fosters a sense of belonging among tennis enthusiasts.
Feedbacks
But don't just take our word for it – here's what some of our satisfied users have to say:
5/5
The Tennis Evolution App has been a game-changer for me. The instructional videos and drills are incredibly helpful, and I can access them whenever I want. The progress tracking feature keeps me motivated, and I love being able to set personal goals. It's like having a personal coach in my pocket!
Leslie John
5/5
As a busy professional, finding time for tennis training was a challenge. But the Tennis Evolution App has made it so convenient for me. I can squeeze in a quick practice session during lunch breaks or even when traveling. The app's flexibility and accessibility have allowed me to consistently work on my skills and see tangible improvements.
Sarah Fisher
5/5
I was initially skeptical about using an app for tennis training, but the Tennis Evolution App has proven me wrong. The instructional videos are clear and concise, making it easy for me to understand and apply new techniques. The app's progress tracking feature has helped me identify areas for improvement, and I feel more confident on the court. It's like having a virtual coach cheering me on!
Emily Richards
5/5
I've been using the Tennis Evolution App for a few months now, and it has exceeded my expectations. The variety of training content is impressive, and I appreciate the detailed technique breakdowns. The app's community is fantastic too, as I've connected with fellow players and received valuable tips. It's an invaluable tool for any tennis player looking to up their game.
Michaela Richards

Pricing and Subscription Options
Tennis Evolution is available for download on both the App Store and Google Play Store. The app is free to download and use, but we also offer a premium subscription that includes access to additional features and resources.
Our premium subscription is available for just $9.99 per month, or $79.99 per year. With a premium subscription, you'll get access to:
Advanced stroke analysis features
Unlimited training exercises
Personalized training plans
A library of exclusive instructional videos
Priority support from our team
Premium Support
14 day money-back
Cancel any time
Exclusive Trainings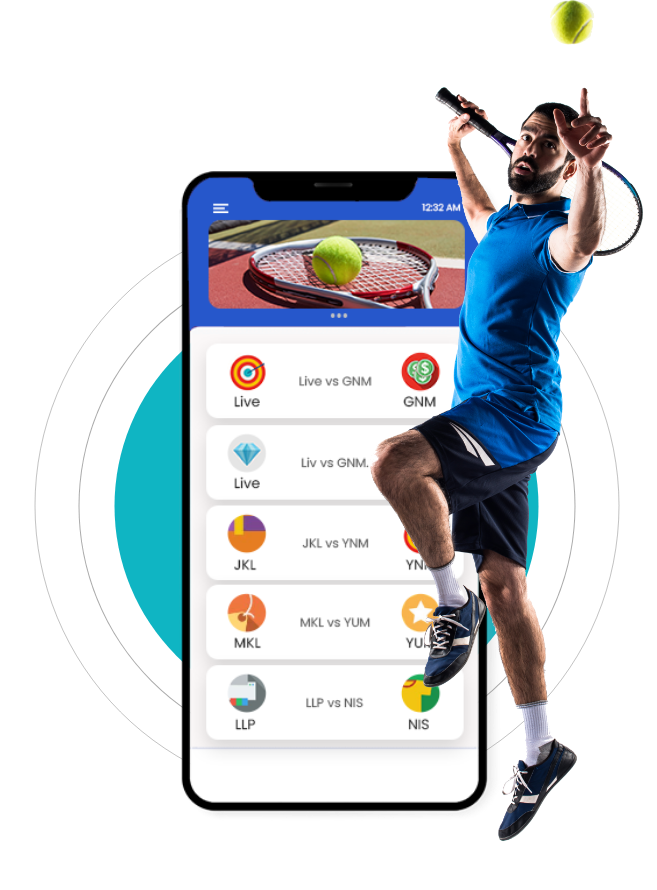 FAQ
Frequently Asked Questions
What is the Tennis Evolution App?
---
The Tennis Evolution App is a mobile application designed to help tennis players improve their skills and enhance their performance. It offers instructional videos, training drills, technique analysis, progress tracking, and a range of resources to support players' development.
How can I access the Tennis Evolution App?
---
The Tennis Evolution App can be downloaded from your device's app store (such as the Apple App Store or Google Play Store). Simply search for "Tennis Evolution App" and follow the instructions to download and install it on your smartphone or tablet.
Is the Tennis Evolution App suitable for all skill levels?
---
Yes, the Tennis Evolution App caters to players of all skill levels, from beginners to advanced. It provides training programs and content that can be adapted based on individual skill levels and goals.
Can I use the Tennis Evolution App without an internet connection?
---
Some features of the Tennis Evolution App may require an internet connection, such as accessing instructional videos or participating in the app's community features. However, certain training programs and drills may be available for offline use once they are downloaded within the app.
Does the Tennis Evolution App replace the need for a real coach?
---
While the Tennis Evolution App offers valuable resources and guidance, it is not intended to replace the expertise and personalized attention of a real coach. The app can complement in-person coaching by providing additional training materials, progress tracking, and convenience for independent practice.
Can I track my progress using the Tennis Evolution App?
---
Yes, the Tennis Evolution App typically includes features for progress tracking. You can monitor your performance, track improvements over time, and set personal goals within the app. This feedback helps you stay motivated and focused on your development.
Is there a cost associated with using the Tennis Evolution App?
---
The availability and cost of the Tennis Evolution App may vary. Some apps offer a free version with limited features, while others may require a subscription or one-time payment to access the full range of training content and features. Check the app's description or website for details on pricing and available options.
Can I interact with other players through the Tennis Evolution App?
---
Yes, many Tennis Evolution Apps include community features that allow users to interact with other players. You can connect with fellow players, share experiences, exchange tips, and participate in challenges or virtual competitions, fostering a sense of community and support.